Professional Development
Part of what has made my career as a scientist so enjoyable has been several scientific interactions with colleagues and members of the public in a less formal setting.
For example, in the spring of 2011 I had the opportunity to be the Earth Science content specialist for a series of elementary school science education films to help teachers prepare for science units on topics ranging from climate and weather and the water cycle to soils and plants. This experience has given me concrete on camera training and was also a lot of fun. (Photo credit: G. Zaidan)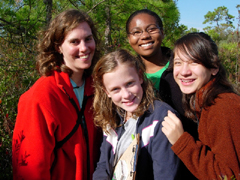 In the fall of 2006 I had the opportunity to be part of a PBS kids' science show called DragonflyTV. I was part of an episode on wetlands of N.C. and I got to work with three wonderful young women scientists, V, Soph, and Sarah (right). We were part of a SciGirls episode and I served as their mentor. The Duke paper featured me in an article right before the show aired in N.C. I also wrote up our experience for the Duke University Wetland Center Newsletter, Fall 2007 (p.6).
I also really enjoyed being the Chair of the Events committee for the Duke Chapter of Sigma Xi for two years. We held a number of successful events including a "Science of Chocolate" event that was featured in the local newspaper.
During my postdoc fellowships and beyond, I continue to be active outside my work and research commitments. For example, in 2012 I was the Chair of the Global Change section of the Society of Wetland Scientists (SWS) and organized a series of four symposia for the annual SWS meeting on Blue Carbon Science, Policy, Economics, and Management. I also organized a symposium for the 2012 Ecological Society of America meeting on the role of science in policy and management. And I continue to volunteer at events that introduce young women to science, what careers in science are like including the Girl Scouts of America "STEM Career Day" at the Smithsonian in 2010, and also to what careers in science policy are available, for example via the Public Leadership Education Network (PLEN) Women and Science/Technology Policy program. These activities interacting with community members and young scientists and communicating my love of science and my interest in conservation continue to be some of the most rewarding parts of my career.