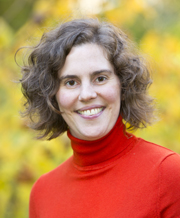 I am an ecosystem ecologist broadly interested in how human environmental change is affecting ecosystem function and the ability of ecosystems to provide the ecosystem services on which we depend. I study how nutrients cycle in ecosystems and how these cycles impact (or are impacted by) ecosystem restoration, water quality, biodiversity, and climate change. I am also interested in ecosystem service measurement and valuation, and how ecosystem nitrogen and carbon cycling can be included in environmental markets.
Currently I am Research Faculty at the University of Maryland in the Earth System Science Interdisciplinary Center (ESSIC) and Ecosystem Science Adviser for the National Ocean Service at the National Oceanic and Atmospheric Administration (NOAA). As such, I am particularly focused on science to support policy and decision making related to improving the sustainability and resilience of coastal communities in the face of climate change. (Photo credit: R. Drobis)
A graduate of Duke University's Program in Ecology and also a Smithsonian Fellow at the Smithsonian Environmental Research Center (SERC) in Edgewater, MD, I was also a AAAS Science and Technology Policy Fellow at NOAA in the Office of Habitat Conservation connecting natural science and social science, via ecosystem services and environmental markets, to support NOAA policies and its habitat conservation mission.

My research interests and expertise lie at the nexus of science and policy and I continually seek additional opportunities combining science and policy to solve environmental problems and promote habitat conservation.
More details about my research can be found on my research page. And I discuss my interests in education and outreach on my teaching and professional development pages.